Welcome!
Spring has seemingly sprung early and with it comes the annual tradeshows and health fairs that are so popular. And dont' forget Social Workers Month this month along with Doctors Day late in March, Administrative Professionals day in April and Nurses Week (May 6-12) and Nurses Day on May 6th. Also, with summer approaching rapidly there will be company picnics and recognition events. We can help you find all the items you need for all these events and more.
Give us a call, we have it all,
Give us a ring and we'll find just the right thing!
Please sign up below for our newsletter and you will also recieve emails showing specials and new products offerings. We are your "One Stop Promo Shop".
Featured Item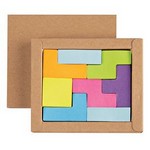 Jigsaw Sticky Flags
Add Fun To Your Desk Top! . Multi-Color Sticky Flags In Puzzle Shapes . Sticky Flags In 8 Shapes . 100 Flags Per Shape . Eco-Inspired Gift Box. 4 1/4" W x 3 3/4" H
$1.99 - $3.48
Signature Showrooms