Featured Item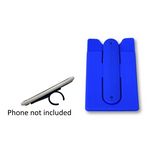 Kickstand Smartphone Wallet (Super Saver...
Great promotional product which easily attaches to a smartphone. It will turn it into wallet/phone kickstand for secure storage of debit, credit cards, license and dollar bills. It is made with sturdy...
$0.90 - $1.56
Welcome!
Cooler temperatures, Fall Festivals and Halloween are now officially on the radar screen! October brings us Breast Cancer Awareness Month, Fire Safety Week, National Bosses Day on the 16th along with outdoor festival weather, Halloween, and the 'here-before-you-know-it' holidays to prepare for. Let us know what you need for your upcoming events.
Give us a call, we have it all,
Give us a ring and we'll find just the right thing!
Please sign up below for our newsletter and you will also recieve emails showing specials and new products offerings. We are your "One Stop Promo Shop".